General Motors announced Tuesday that it is delaying scaled-up production of its full-size electric pickups for a whole year, to late 2025. 
That extra year of time idling GM's Orion Assembly in Michigan won't be filled by additional production of the Chevy Bolt EV and Bolt EUV, however. Those models are still due to go out of production late this year, with a next-generation Bolt EV due to follow at some future date and $30,000 Chevy Equinox EV due in spring 2024.
In the meantime, low-volume production of the Chevrolet Silverado EV and Cruise Origin will continue at GM's Factory Zero plant in Detroit, with the GMC Sierra EV set to be added to the mix in 2024.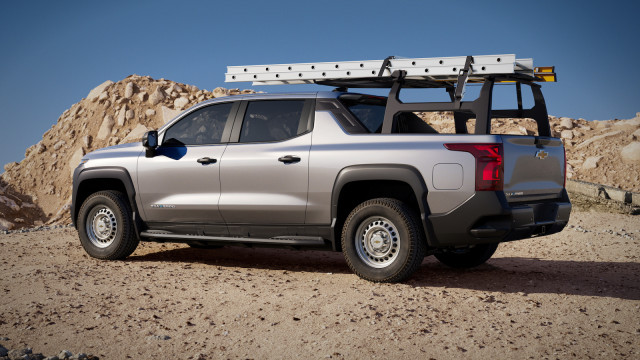 2024 Chevrolet Silverado EV
Within an official statement obtained by Green Car Reports, GM said that the decision was not made due to the ongoing UAW strike but as part of a move "to better manage capital investment while aligning with evolving EV demand."
"In addition, we have identified engineering improvements that we will implement to increase the profitability of our products," GM stated.
Factory Zero – GM reconfigures Hamtramck plant for EVs
The automaker said that workers from the Orion plant would be able to work at Factory Zero, also called Detroit-Hamtramck. It said that production there "has been steadily increasing and significant scaling is planned for 2024," with plans for a second shift.
Officials have previously said, however, that it will not be a mass-production facility at the level planned for Orion. It's likely that some versions of the Silverado EV and Sierra EV will be delayed in production—or canceled—but GM hasn't yet detailed how it effects the model lines. GM CEO Marry Barra declared two years ago that the Silverado EV would be "a high-volume entry" and affordable for fleets.
GM aimed to build 400,000 EVs by the end of 2023, but late last year pushed that goal back to mid-2024. As Green Car Reports recently pointed out, even that EV goal looks like an impossibility. 
It has for months been pointing to the supply of battery cells as the primary factor slowing the production ramp of its next-generation Ultium EVs. Ultium Cells LLC, the joint venture between LG and GM, has one facility up and running in Lordstown, Ohio, with two more facilities yet to come, in Spring Hill, Tennessee, and Lansing, Michigan. It's backed by a $2.5 billion DOE loan and producing large-scale pouch cells in a format not used by any other EV maker—although GM in April announced a separate $3 billion joint venture with Samsung SDI to make cylindrical batteries, akin to what's used by Tesla, Rivian, and Lucid. 
2022 GMC Hummer EV pre-production at Factory Zero plant in Detroit, Michigan
In the time since GM made its first delivery of a GMC Hummer EV, in December 2021, through September 2023, the automaker has delivered just 2,071 GMC Hummer EV pickups. During that time, from its facility in Holland, Michigan, LG has managed to supply new battery packs for many Bolt EVs from previous model years, as part of a recall, as well as enough battery packs for record production of the Bolt EV and Bolt EUV in 2023. That includes more than 39,000 Bolt EV and EUV models sold in the U.S. and Canada through September. 
Meanwhile, that LG factory in Michigan is due for an expansion to fill an order from Toyota, for a U.S.-made EV due in 2025.
2024 Cadillac Lyriq
GM ramped up production of the Cadillac Lyriq significantly in the past quarter, hitting 3,018 units then and 5,334 so far in 2023. In the previous quarter, GM reported just a trickle of other Ultium vehicles, including 19 Chevy Blazer EVs and 18 Chevy Silverado EVs. GM is also expected to produce about 70,000 2024 Honda Prologue EVs and a lesser number of 2024 Acura ZDX EVs using its plants and Ultium battery supply.
All said, the lead that GM appeared to have in getting to volume with its electric trucks has all but disappeared. By late 2025, Ford will be ramping up its futuristic next-generation electric pickup, termed Project T3 from a mammoth new plant in Tennessee. 
Related Articles