The first wave of NFL free agency is over.
We've seen the contracts and structures, giving a clear picture of which deals are favorable and which will quickly be regrettable. While notable players remain on the market, draft needs for the 32 clubs are coming into focus.
This year there were a couple of notable quarterbacks in Jimmy Garoppolo and Baker Mayfield. The offensive linemen were also plentiful, headlined by tackles Orlando Brown Jr. and Mike McGlinchey, and guards Ben Powers and Nate Davis. On the perimeter, JuJu Smith-Schuster, Jakobi Meyers and Allen Lazard were the top options, all signed by the first day of the new league year.
Defensively, there was ample talent, including a fantastic safety class led by Jessie Bates, Vonn Bell, Chauncey Gardner-Johnson, Juan Thornhill, Julian Love and Jordan Poyer. Up front, defensive linemen Dre'mont Jones and Javon Hargrave took down hefty contracts with new teams in the NFC West.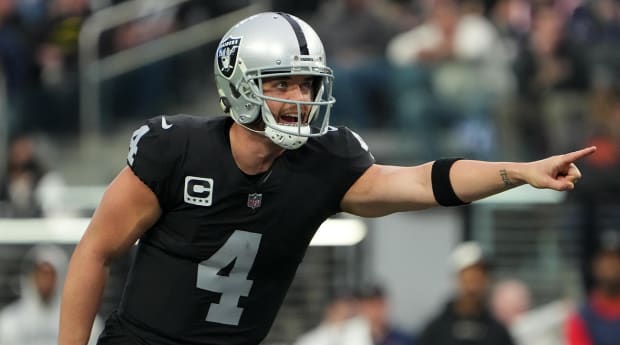 With many of the big names off the board, Sports Illustrated put together a roundtable of senior writers Albert Breer and Conor Orr, and staff writers Gilberto Manzano and Matt Verderame to break down the best moves, worst moves and much more.
The free-agent signing you like the most?
Conor Orr: Tremaine Edmunds to the Bears. I think putting good, young players in capable hands is a winning move, regardless of what we'd think of as a position of value or not. The Buccaneers won a Super Bowl thanks, in part, to their strength at the off-ball linebacker position. The Bears saw value there this spring and jumped, giving coach Matt Eberflus a leg up on designing the defense he wants in 2023.
Gilberto Manzano: Orlando Brown Jr. to the Bengals. With all the social media cap gurus worried about how the Bengals are going to pay their core players, the team surprisingly splurged on upgrading the protection for its franchise quarterback. Sure, Cincinnati created a problem with Jonah Williams now wanting out, but Brown is the better tackle. Argue all you want about Brown playing left tackle, but $16 million per year is a bargain for the win-now Bengals.
Matt Verderame: Javon Hargrave to the 49ers. Teams win Super Bowls due to great coaching and quarterback play more than anything else, but the trenches are a close third. San Francisco was already excellent along its defensive line and now adds an elite talent in Hargrave to pair with Arik Armstead and Nick Bosa. Four years and $84 million is a quality investment for the Niners.
Albert Breer: Isaac Seumalo to the Steelers. Pittsburgh needs help up front, first and foremost. But this goes beyond that. The Steelers are getting a guy brought up by Jeff Stoutland over the past six years in Philly, and a guy who, through assistant GM and former Eagles exec Andy Weidl, they have a ton of institutional knowledge on. Also, you always have to ask why a team is letting a player go, and, in this case, it's relatively simple—Philly had to spend a lot elsewhere and had 2022 second-round pick Cam Jurgens ready to roll.
The free-agent signing you like the least?
Orr: Derek Carr to the Saints. I got flack for saying this last year, but they have not given up on the idea that this team is one step from contention. And while that's admirable, to commit yourself for what is essentially three years and $100 million to a quarterback with one postseason start—and a 53.7% completion rate in said start—seems like quadrupling down on the same kind of roster mismanagement that made Sean Payton hit the eject button two years ago.
Manzano: Dre'mont Jones to the Seahawks. The Seahawks ranked 30th in the league last season in rushing yards allowed per game (150.2), and that's not an area of strength for Jones, who received a run defense grade of 41.8 from Pro Football Focus. It's easy to overlook Jones's run defense issues because he's a stout pass rusher, and the team brought back Jarran Reed to help in that area. But Zach Allen, a more versatile defensive lineman, was available for a cheaper rate.
Verderame: Jimmy Garoppolo to the Raiders. The deal is reasonable financially, with the 32-year-old getting $72.75 million over three years. However, if the Raiders take a quarterback early in the draft, having Garoppolo's cap hits of $16.3 million and $28 million over the next two years mitigates the benefit of having a cheap rookie deal. Plus, the injury history is significant. Garoppolo has played nine NFL seasons and only twice started more than 10 games.
Breer: Mike McGlinchey to the Broncos. I like the idea of this, because Sean Payton's teams have always invested in the offensive line over the skill positions (and that was consistent really over his 16 years in New Orleans). My concern here is whether McGlinchey (five years, $87.5 million, $52.5 million guaranteed) will justify Lane Johnson–type money. If he was that good … why didn't the Niners lock him up, rather than taking that capital and spending it on Hargrave?
The GM who has aced free agency?
Orr: Ryan Poles. You can read more about that here. I think Poles has built a team around the quarterback he inherited because it's the right way to contend sooner and still maintain some financial flexibility. The Bears can get out of some of their biggest deals—such as Edmunds—in three years, or at the same time that Justin Fields is finishing his fifth-year option. If the experiment doesn't work? Blow it up.
Manzano: Terry Fontenot. The Falcons kept their productive offensive line intact with the contract extensions for right tackle Kaleb McGary and offensive guard Chris Lindstrom, and improved the offense by trading for tight end Jonnu Smith. Fontenot also addressed many defensive needs with the additions of safety Jessie Bates and David Onyemata. Now Fontenot is missing a franchise quarterback, but he didn't panic in that department and added quarterback Taylor Heinicke to push Desmond Ridder.
Verderame: Scott Fitterer. The Panthers have made smart, reasonable additions on both sides of the ball, securing three-year deals with tight end Hayden Hurst, defensive tackle Shy Tuttle and safety Vonn Bell. Carolina also signed quarterback Andy Dalton for two years and $10 million, giving the Panthers' future rookie signal-caller a veteran to use as a sounding board on the sideline and in the film room.
Breer: Brett Veach. I think there's a big-picture view to all his moves. The Chiefs' getting Jawaan Taylor gives them long-term security they lacked with Brown at one tackle spot and gives them the flexibility to look at both left and right tackles in the draft for his bookend. They let JuJu Smith-Schuster go, but have Skyy Moore ready to roll. The loss of Juan Thornhill is softened by last year's signings of Justin Reid and drafting of Bryan Cook, and the under-the-radar addition of Mike Edwards. I've always felt like the moves the most successful franchises make are so logical you could explain them to a 5-year-old. And Kansas City's are that way.
The biggest overpay in free agency so far?
Orr: Pretty much everything the Eagles did? While I considered them a "winner" because they were able to cram so many players they wanted back onto the roster, how many times does the run-it-back mentality actually work for a football team? This Eagles group lost both coordinators (Shane Steichen to the Colts, Jonathan Gannon to the Cardinals) and contorted themselves to re-sign a few players who, while instrumental to their culture, are all in their early- to mid-30s.
Manzano: Javon Hargrave to the 49ers. Hargrave will help San Francisco win now, but making him the third-highest-paid interior defensive lineman ($21 million per year) behind Aaron Donald ($31.7 million) and Daron Payne ($22.5 million per year) is a risky move for a 30-year-old entering his eighth season. Hargrave, however, addressed a position of need and has missed only three games because of injury in his career. San Francisco is banking on the prized free agent and the trade for Christian McCaffrey to pay off this season with a Super Bowl title.
Verderame: Andre Dillard to the Titans. Tennessee signed the 2019 first-round pick to a three-year, $29 million deal to become their starting left tackle, replacing Taylor Lewan. Dillard, 27, was never able to play consistently for Philadelphia, starting only nine times in his career and not once in '22. Paying Dillard over a multiyear deal is based more on hope than previous results.
Breer: Patrick Peterson to the Steelers. I love Peterson. He deserves Hall of Fame consideration, and he'll get it five years after he retires. But $7 million annually at this point of his career just struck me as a little excessive. He could prove me wrong, and this might wind up being the sort of signing Joe Haden was for them. I just think it'll be hard to depend on a corner who'll play his next game at 33 years old.
The best bargain in free agency?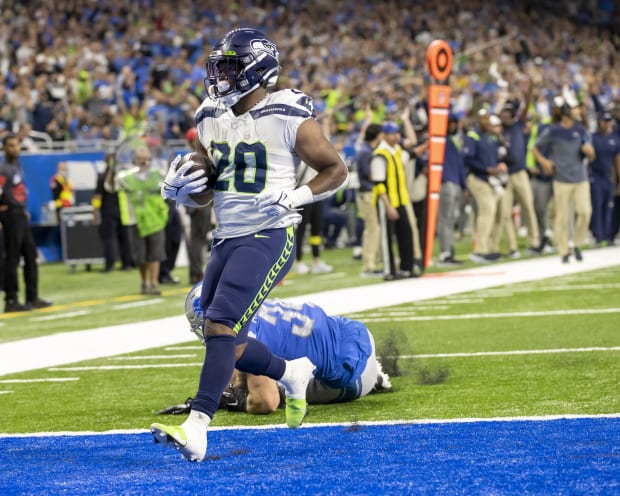 Orr: Samaje Perine to the Broncos. While most running back contracts are going to be minuscule, I love Perine (two years, $7.5 million) as a legitimate second back who can bail out Russell Wilson in the passing game. Perine is a big body with an ability to find the end zone when called upon. We've seen how valuable these backs are in critical situations.
Manzano: David Long Jr. to the Dolphins. There might not be a better scheme fit for an outside free agent than Long's joining Dolphins defensive coordinator Vic Fangio. Long is a standout run stopper and blitzer, and it cost Miami only a two-year, $11 million contract. To compare, T.J. Edwards received a three-year, $21 million deal from Chicago.
Verderame: Germaine Pratt to the Bengals. Pratt became one of the league's better off-ball linebackers over his rookie deal in Cincinnati. It appeared Pratt would cash in elsewhere in free agency, but the 26-year-old stayed in the Queen City for three years and $20.25 million. Last season Pratt played a career-high 76% of the defensive snaps, recording 99 tackles, two interceptions and a sack in 15 games.
Breer: Rashaad Penny to the Eagles. Look, I understand how people see running backs—but I'm starting to wonder whether the devaluation of the position has finally reached the point where there are great deals to be had all over the place for guys who carry the ball. Penny's been hurt a ton, but he's also a really, really good player, and you could argue, if healthy (yes, a big if), he's an upgrade over Miles Sanders. And Philly got him on a one-year, $1.35 million deal. Signing bonus? A hundred grand.
The most improved team after the first wave?
Orr: Panthers. I think everything Carolina did this offseason was massive. I don't feel irresponsible projecting it as a possible divisional contender with a rookie quarterback.
Manzano: Broncos. New Denver coach Sean Payton and GM George Paton gave quarterback Russell Wilson a golden opportunity for a bounce-back season. They improved the offensive line with right tackle Mike McGlinchey and offensive guard Ben Powers, and bolstered the backfield with fullback Michael Burton and running back Samaje Perine. The Broncos got tougher on both sides of the trenches with the signing of versatile defensive lineman Zach Allen. Denver also added a quality backup in Jarrett Stidham in case of emergency—or in case Wilson continues to struggle.
Verderame: Bears. Granted, Chicago was originally picking No. 1 in April's draft for a reason, but general manager Ryan Poles used his cap space aggressively. The Bears picked up a pair of linebackers in T.J. Edwards and Tremaine Edmunds, guard Nate Davis, running back D'Onta Foreman, tight end Robert Tonyan and others. It can be argued the Bears overpaid in some instances, but the roster is vastly improved from where it was in February.
Breer: Jets. I'm not reinventing the wheel here. They're lined up to get Aaron Rodgers. They were 7–4 before injuries hit last year, and got there with really shaky quarterback play. And, yeah, their other additions (Allen Lazard, potentially Marcedes Lewis and Randall Cobb) promise to be Rodgers-centric. But that's O.K., because they're going to be getting Rodgers, who I think will be reenergized, reengaged and revenge-minded.
Are the Chiefs and Eagles still the two best teams?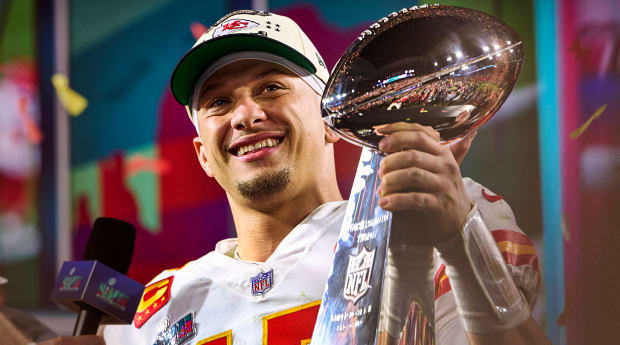 Orr: No. The Chiefs and 49ers are just like they were last year. Had it not been for a fluke, baseball-style injury to Brock Purdy, we would have been talking about a great 49ers-Chiefs Super Bowl rematch. Now, with a healthy Trey Lance, or even a healthy Sam Darnold, I'm taking San Francisco over Philadelphia.
Manzano: Yes, but the gap has gotten smaller. The 49ers took Hargrave from the Eagles, and the Lions improved with the addition of safety C.J. Gardner-Johnson, another Philadelphia departure. The Eagles lost players, but they retained veteran leaders Jason Kelce, Darius Slay, Brandon Graham and Fletcher Cox. The Chiefs might have to face Orlando Brown Jr. and the Bengals in the postseason, but they're in good shape with the addition of Jawaan Taylor. The Chiefs and Eagles have proven track records of maintaining competitive rosters.
Verderame: No team has displaced the Chiefs atop the NFL. They need to add a receiver and some rotational help along the defensive line, but Kansas City has Patrick Mahomes and Andy Reid. They remain the favorite. As for the Eagles, they've lost key pieces on defense and running back Miles Sanders. If the Niners can get consistent quarterback play, I'd lean San Francisco in the NFC … but that's a big if.
Breer: I'd go with the Chiefs and Bengals. The Eagles, I think, have built their team in a way that'll sustain them over time (see: having Jordan Davis and Nakobe Dean ready to roll with Javon Hargrave and T.J. Edwards leaving), and are still as well run as any team in the league. But there is a lot of transition underway in Philly, with two new coordinators, a handful of important players out the door and an adjustment to have a quarterback on a top-end contract coming. I think the team will come out of all that fine. But I think it'd be silly not to expect some bumps this year.