Former NBA superstars Dirk Nowitzki, Dwyane Wade, Pau Gasol and Tony Parker, along with current Spurs coach Gregg Popovich and former WNBA star and current Las Vegas Aces coach Becky Hammon lead the 2023 Basketball Hall of Fame inductees list, according to a report from ESPN.
While an official announcement is expected Saturday as part of Final Four weekend at the NCAA men's tournament in Houston, Sports Illustrated's Chris Herring and Rohan Nadkarni weigh in on the 2023 class.
Where does this class rank overall? Is it the best in history?
Chris Herring: I can't quite go that far with it. While this class is star-studded, to say the least, the fact that it will be without a player who was the GOAT at his/her position weakens the case. For those reasons, I'd take either the 2009 class—involving Michael Jordan, David Robinson, John Stockton, Jerry Sloan and C. Vivian Stringer—or the '20 class, with Tim Duncan, Kevin Garnett, Kobe Bryant, Tamika Catchings and Rudy Tomjanovich, among others.
Rohan Nadkarni: It's a dead heat between this year's class, the 2020 class and probably '09. For my money, I'll give the edge to '20. We don't need to get into a detailed breakdown of those careers vs. the careers of the '23 inductees, but my immediate impression is the Kobe-Duncan-Garnett trio is more accomplished. This year's group is an all-time class, though. Not only a lot of championships in the D-Wade, Dirk, Tony Parker and Pau bunch, but also a lot of playoff battles against one another, which is a very fun aspect of this class.
Should active coaches be eligible for induction?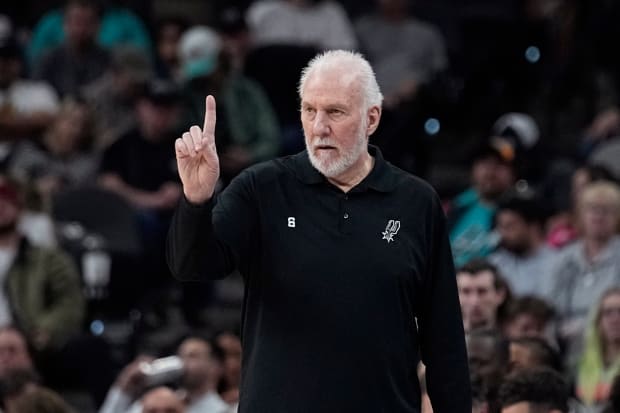 Herring: I'm fine with that. And let's be clear: Gregg Popovich was eligible years ago—active coaches are eligible once they've worked at the pro level for 25 years and reached the age of 60. He simply didn't want to be enshrined before Tony Parker's becoming eligible, which sounds a lot like Pop.
Nadkarni: I'll be that guy—no, they shouldn't! I'm all for celebrating people while they are still in the mix. In fact, Popovich is widely beloved and constantly praised, even as his Spurs team has fallen off in relevance. But inducting someone while they are still in the middle of their career is strange. When Pop gives his induction speech, I want him to be in a fully reflective space. I don't want him joking about how he needs to get back to training camp to coach Keldon Johnson. The Hall of Fame is all about history and looking back. It's about enshrining your body of work. You can't do that if you're still working! What if Pop wins another title? Won't they have to update his plaque or something?
Who should introduce Gregg Popovich?
Herring: Most people will argue it should be Tim Duncan, and I'm totally fine with that. (Manu Ginóbili would be great, too.) I also wouldn't have an issue with Becky Hammon doing the honors (she is reportedly getting elected this weekend). Pop gave her a shot as an assistant, and she already looks like she could go down as one of the all-time coaching greats just one year into her tenure with the Las Vegas Aces. (She also figures to be in demand on the NBA side at some point, if she still has interest there.) While she wasn't officially with Pop as an assistant during his championship runs, I'd venture to guess she can speak to who the man is and how passionate he continues to be about the game, even at a much different phase of his career.
Nadkarni: I'm going to go with something radical here—I want Duncan, Ginóbili and Tony Parker to deliver a three-person speech. Is that against the rules? I don't know and I don't care. This is not the kind of event that needs rules. When I think of Pop, I think of sustained success. And nothing better embodies his years of dominance like the trio of Duncan, Manu and Parker—a selfless bunch that is becoming a relic of an NBA that largely doesn't exist anymore (outside of the Warriors). A unique coach with a singular legacy deserves a unique induction. Let all three of them get up there so we can properly appreciate how special that dynastic run was.
What do you make of the international scope of the class?
Herring: In a league that is thoroughly dominated by foreign players—Nikola Jokić, Giannis Antetokounmpo, Luka Dončić, Joal Embiid—it's merely a sign of things to come. It will soon be totally common to see multiple international players get in every year. It's far from just an American sport at this point.
Nadkarni: Dirk, Parker and Pau are only the beginning. Today's NBA is dominated by international stars. We're just scratching the surface of the league's efforts to grow the game around the world. And it's great! International stars were unfairly judged for many years. Remember all the times Dirk and Pau were called soft? We're seeing now that the NBA is truly a global sport. And the wider the competition, the better the game will be for fans. The more international players that make the Hall means teams are truly finding the most talented individuals in the sport.